Celebrating over 20 years!
Leeds English Language School was established in 2001
The Leeds English Story
The story of our school begins in 2001 when Bob and Mike started the school with only 3 students. Since then the school has grown but the strong family values of being student focussed and providing a personal touch have remained strong.
We are an independent school (not a big chain), where your education is the main focus in everything we do. We focus on giving you personal attention, from your independent learning plan to exam preparation so you achieve your goals. We are flexible and approachable and can make quick decisions based on your personal situation. Ask anyone who has studied here ?
We look after our staff too, most of whom have been with us for over 10 years. They care about your welfare and your studies and that is why they work here.
We offer Intensive General English and Intensive IELTS courses to students over the age of 17 as well as an online IELTS programme. You also have an individual learning plan to focus on your needs. There are also lots of trips and activities to help you really enjoy your time in Leeds and the UK too!
Our mission is that we want to give you the best possible opportunity to learn English in the north of England by giving you excellent teaching and supporting you with a caring team in a safe and friendly environment.
We have been helping students like you fulfil your own personal potential and maximise your success inside and outside of the classroom for over 20 years.
Become part of the #LeedsEnglishFamily!
Our Mission
To provide students with the best possible opportunity to learn English in the north of England through the provision of excellent teaching and a caring team in a safe and friendly environment. To help individual students fulfil their own personal potential to maximise their success inside and outside of the classroom.
Our Values
Integrity
Care and wellbeing
Tolerance
Development Mindset
Family
Education
Guidance
Honesty
Appreciation
---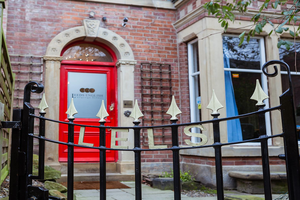 Goodbye Victoria Road!
We decided to relocate all our classes to our Burley Road school in order to improve our students' experience. Historically Victoria Road was where the school started but to be more effective, we believed that the location and size were no longer practical or appropriate for our students' needs. Burley Road is a more modern building with better facilities and having everyone on the same site allows us to be more efficient and give an improved level of education and support to our students.

It is sad to say goodbye to the place so many students enjoyed learning and we have very happy memories of our time there!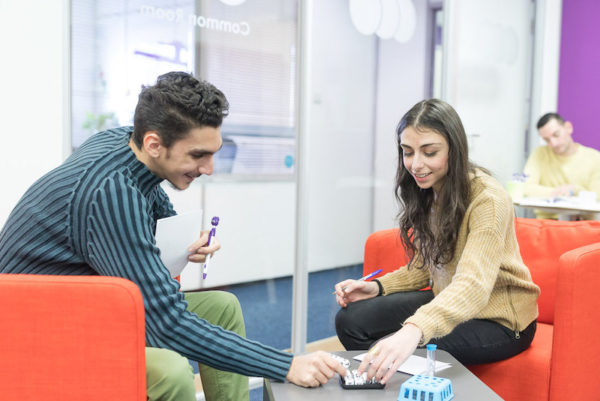 New Common Rooms
With some new colourful furniture and Leeds English purple on the walls, we improved the look and feel of our common rooms.

Becky revisited Thailand!
She visited former Leeds English students and attended a large education conference.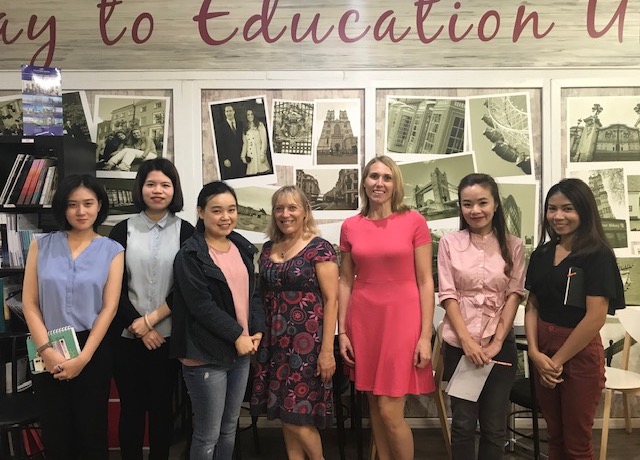 Carol and Becky visit Thailand!
They visited former Leeds English students and meet some of our top agents in Bangkok.

Better Learning with Cambridge
Leeds English Language School becomes the first English language school in the UK to be named a Cambridge University Press Better Learning Partner. This is exciting news for our students who will now benefit from better resources, better online learning and better assessment – all from the writers of the IELTS!
To learn more about what this means, you can read all about our Cambridge connection here.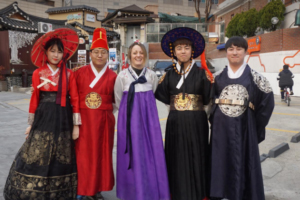 Ione visits Seoul
She meets our former students – Eunhyun and Hyeran – and catches up with some of our best agents.

Francine goes to São Paulo
She meets lots of Brazilian students and attends the English UK conference.
Leeds English is inspected by ISI and scores Grade 1 in all areas.

We score grade 1 in our first ever Independent School Inspectorate (ISI).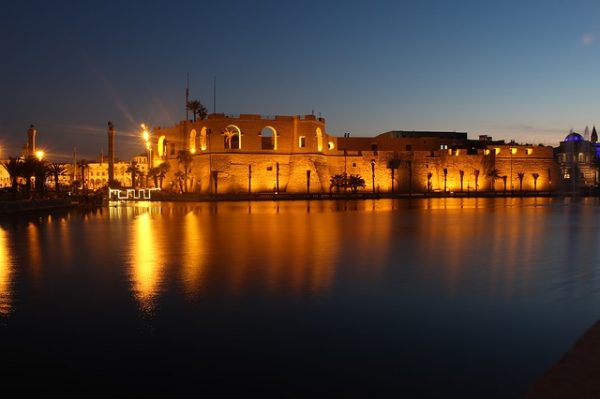 We visit China

We visited the British Council in Ningbo, travelled to the spring city of Kunming and climbed the skyscrapers in Shenzhen. We had a lot of students from china in those days.

We visit Libya!
Rachel and Andy explore beautiful Tripoli and teach IELTS at a partner school in Libya. Bob visits agents in this beautiful country with wonderful people.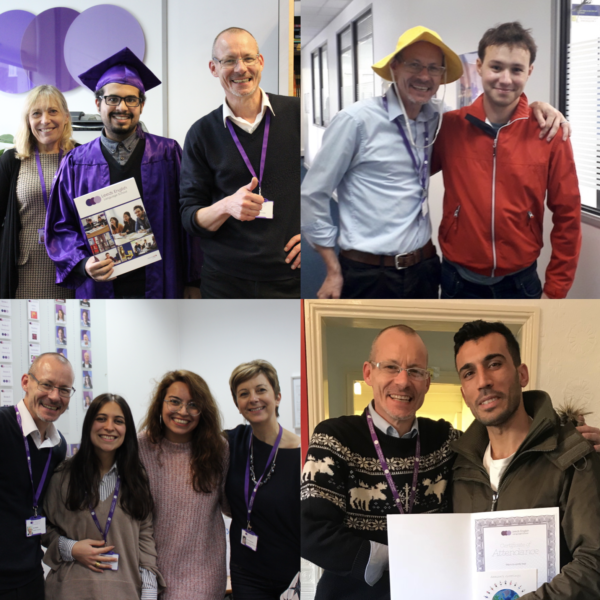 Neil joins the team!
You will see Neil, our Director of Studies, quite often and probably get to know him quite well; he is very involved in helping students academically, supporting teachers, telling jokes and making us all laugh.

He works very hard to help students reach their potential and spends lots of time developing courses to make sure that Leeds English students are offered the best education that we can possibly deliver.

Burley Road School opens!
Burley Road School opens!
As more and more students apply to study at Leeds English Language School and the school's reputation continues to spread, we cannot fit all of our students in Victoria Road.

Burley is another popular area of Leeds with a big student population. It's close to the centre (15 minutes on the bus) and within a 20 minutes' walk to where most of our students live.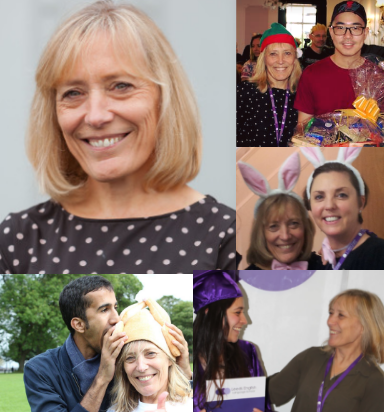 Carol joins the team!

Carol's first day at Leeds English was actually on her birthday! It must have brought good luck because she has been here ever since! You will see Carol in the office. She sometimes goes on the trips and is very involved in the day-to-day running of the school.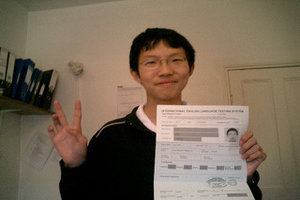 Our first IELTS 8 student!

Dominic Wang from China gets an IELTS 8, with an amazing 9 in reading! Unfortunately, in 2004 iPhones had not been invented – we are sorry about the quality of Leeds English's older pictures!

Accreditation
Leeds English Language School becomes accredited by the British Council and joins English UK.
Every few years, the British Council comes to inspect Leeds English Language School. Our reports keep getting better and better.  We get a strength in Care of Students every time!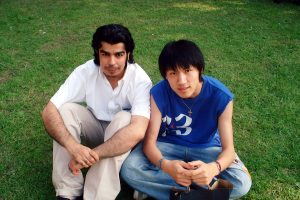 Our first student from Saudi Arabia!

Khalid (left) is Leeds English Language School's first ever Saudi. Since he started, we have had many more fantastic students from Saudi Arabia and continue to be a trusted partner of the embassy who sends us lots of our friendly, hardworking students.

Victoria Road School opens!
Victoria Road opens in the popular Leeds area of Headingley/Hyde Park – the student neighbourhood of Leeds!
With its great restaurants, clothes shops, coffee houses and pretty parks, we thought that Headingley/Hyde Park made a more interesting location for our students than Leeds city centre.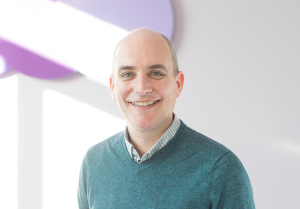 Leeds English Language School is born!
We open the first English school in Leeds with only 3 students!

The Directors had lots of experience working in education and the teaching of English. One of the Directors,Bob, has worked in EFL since 1995. You are likely to meet Bob, who can often be seen laughing and joking with the students. If you see him, ask him why the school is sometimes called "Bob's School".
---
Apply today and we will send an application pack to your email.