English courses designed to help you progress
General English, Intensive IELTS, B2 First and more!
Intensive General English
The main objective of this course is to help you communicate better in real-life situations.
The school uses the latest course books which teachers adapt to make relevant to their learners' needs. You can expect to learn new grammar and vocabulary every day!
21 Hours per week. Age 17 plus.
All levels welcome
Beginner*, Elementary, Pre-intermediate, Intermediate, Upper Intermediate, Advanced.
Duration
Each term lasts 10 weeks and students must study for a minimum of 2 weeks.
Class Size
Average: 10
Maximum: 16*
*Different classrooms have different sizes so some classrooms may have a maximum of 8.
Start Dates
Any Monday.
(*Beginners should start near the beginning of term – Check term times)
Included
A free placement test, free extra classes, your textbook, a bag of materials and a certificate at the end of your course.
---
Progression
At Leeds English Language School, we offer 6 different levels of English courses (Beginner, Elementary, Pre-Intermediate, Intermediate, Upper Intermediate and Advanced).
In addition, we offer IELTS exam preparation courses, which are suitable for Upper Intermediate and Advanced level students.
This diagram (Fig 1) shows the different paths available and the CEFR level equivalents.
1 course = 10 weeks.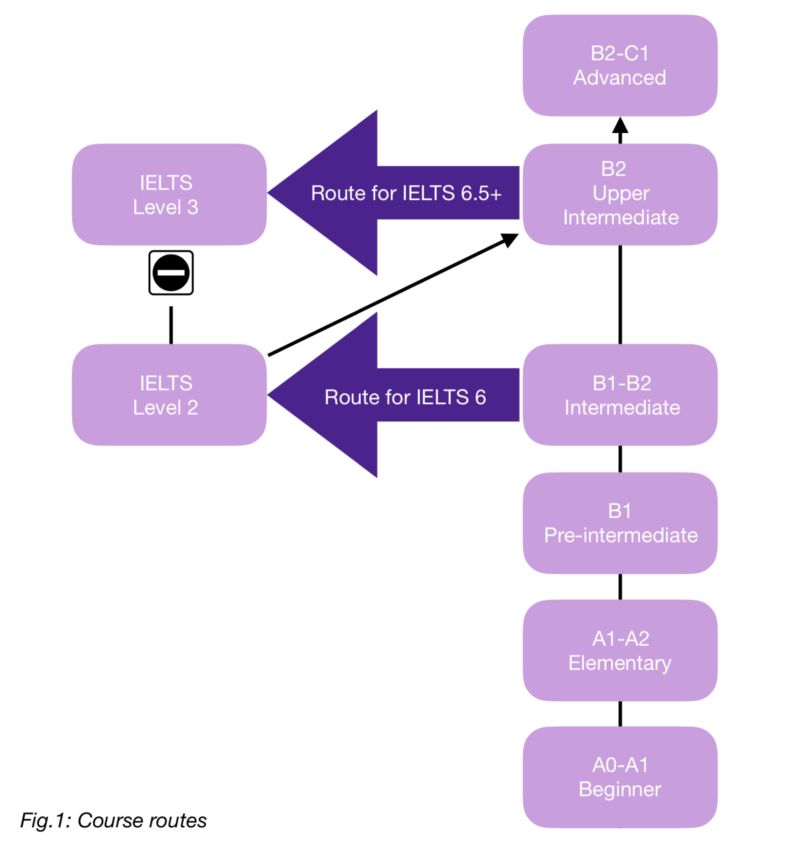 ---
Cambridge materials from the makers of the IELTS tests
Course Book
At the start of the course, students receive an official Cambridge University Press course book suited to their level.
Learning Management System (LMS)
Leeds English students have access to the official online Cambridge LMS for up to one year after completing their course.
---
Timetable
---
Homework and assessment
Students are expected to complete approximately one hour of homework every day. Regular tests help students to see the progress they have made. These are done in class every two weeks. There is a mid-course test in week 5 and a final test in week 10.

---
Other Courses
Apply today and we will send an application pack to your email.