We love Yorkshire
Explore our beautiful county and see more of England!
Social Activities
We want our students to work hard, but also to play hard!
During your time with us, we want you to have a great experience in Leeds and the surrounding area.
We have a great and varied programme offering events and trips to please everyone's interests and budgets. Prices range from £5.00 to £50 depending on the activity but there are also free trips and lots of free activities available throughout the year. Please look on the upcoming events to give you an idea of how much particular trips cost.
Our Social Activities page is full of ideas to get you out and about, speaking, listening and learning with other students and local people.
---
Some of our favourite places to visit:
York
See the largest Gothic cathedral in Europe and walk the cobbled streets!
Knaresborough
Visit the famous caves and take a boat ride under the stunning railway bridge!
Scarborough
Take a trip to the English seaside for fish and chips on the beach and visit a castle built 3000 years ago!
Liverpool
Learn about the Titanic at the Maritime Museum and see where The Beatles used to play concerts!
Ilkley
Walk the ancient moors for beautiful views of the Yorkshire countryside!
Bolton Abbey
Visit the ruins of a 12th-century monastery located alongside the River Wharfe and have a go at crossing the river using its famous stepping stones!
---
We go on trips to various cities around England. Look on the notice boards around the school for the next trip.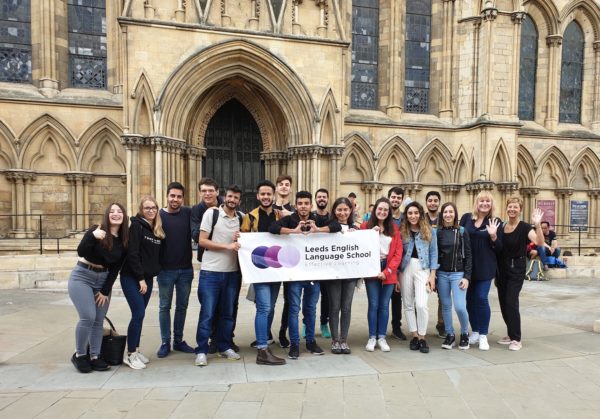 Natalia from Russia
"I'm grateful to Ruth for magnificent trips, especially to York!"
Natalia
from Russia

Elodie From France
"A lot of activities such as trips in York and Blackpool, international day and painting. The second one was my favourite because all students shared their cultures through food, presentations and music."
Elodie
from France

Meltem From Turkey
"All the trips were perfect throughout my education. I don't know how to thank Ruth. She makes an effort to please all students!"
Meltem
from Turkey
---
Love where you live!
We want you to love our city as much as we do!
Local activities include a trip to the Royal Armouries Museum combined with a ride on the water taxi, a visit to the Leeds German Christmas Market, a fish and chips night at the local pub, and more!
Having a happy, relaxed mind helps you reach your potential. This is why offering fun and interesting activities is a top priority at Leeds English Language School.
Learn about British culture!
We host various events throughout the year such as Pancake Day, Halloween, a Winter Party, Bonfire Night, and Valentine's Day!
---
Blog Posts
---
Apply today and we will send an application pack to your email.