---
---
IOU News – A Leeds English Newspaper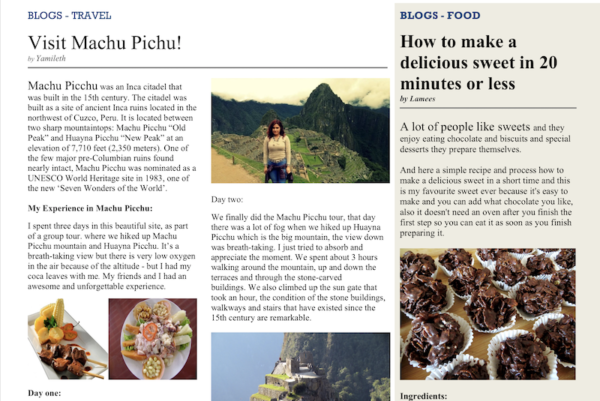 Lewis' Upper Intermediate class created their own eNewspaper.
This project contains insightful articles on travel, sports, debate, food, celebrity, books and movies – it has it all! Read some extracts below, or click the button to view the document in full.
NEWS
COVID-19 ADVICE by Nouf
At the start of 2020, we heard about something strange – it was called the Coronavirus (COVID-19).
Actually, we did not care about it in the beginning but in March, the situation became dangerous so every country adopted some steps to protect their people. However, each person is primarily responsible for his or her physical and psychological health. Therefore, here is some advice about how to deal with this period.
Physically
First, you have to stay at home and do not go out unless necessary because if you go out, you may be more at risk. Secondly, if you come back home, wash your hands for twenty seconds as it can keep you healthy and prevent the spread of the virus. Next, try to use gloves and wear a facemask and change it from time to time since it plays a very important role. Finally, if you have any coronavirus symptoms, use the 111 online coronavirus service immediately.
FOOD
How to make a delicious sweet in 20 minutes or less by Lamees
A lot of people like sweets and they enjoy eating chocolate and biscuits and special desserts they prepare themselves.
And here a simple recipe and process how to make a delicious sweet in a short time and this is my favourite sweet ever because it's easy to make and you can add what chocolate you like, also it doesn't need an oven after you finish the first step so you can eat it as soon as you finish preparing it.
TRAVEL
Visit Machu Pichu! by Yamileth
Machu Picchu was an Inca citadel that was built in the 15th century. The citadel was built as a site of ancient Inca ruins located in the northwest of Cuzco, Peru. It is located between two sharp mountaintops: Machu Picchu "Old Peak" and Huayna Picchu "New Peak" at an elevation of 7,710 feet (2,350 meters). One of the few major pre-Columbian ruins found nearly intact, Machu Picchu was nominated as a UNESCO World Heritage site in 1983, one of the new 'Seven Wonders of the World'.
My Experience in Machu Picchu:
I spent three days in this beautiful site, as part of a group tour. where we hiked up Machu Picchu mountain and Huayna Picchu. It's a breath-taking view but there is very low oxygen in the air because of the altitude – but I had my coca leaves with me. My friends and I had an awesome and unforgettable experience.
Books
The most underrated book you've ever read by Hassan
This short romantic story talks about two high school classmates, Huw and Megan, Huw was from a poor family and because of his family situation he decided to study and work with his brother "Gareth" in the mine which was the only source of money for all the village residents. Megan was from a rich family. However, she and Huw fall in love. They spent two wonderful years together but after a tragic accident Huw was forced to go overseas with his love feeling. But the lover cannot stay away from his love, so Huw came back to the village to see his love, but when he arrived, Megan was about to get married!
Movies
What about a movie tonight? by Arwa
This film (Dangerous Lies) is about a young couple called Katie and Adam. Katie lost her job as a waitress and her husband is a student. They are struggling to live a good life. For the last four months Katie has been working as a caregiver for a wealthy elderly man who lives alone in a big house with no family left. She has learned to take care of her client very well and they have gotten close enough. Unexpectedly, the man dies and something happened to the couple that changed their life significantly.
Sports
"Noooooo!" Said the Real Madrid fans by Abdullah
"Siiii!!"
Most of you when you hear this word will recognise Cristiano Ronaldo, especially the fans of Real Madrid. Cristiano is one of the best players in history and losing him was a shock! So, what about Real Madrid fans who're used to hearing this word "Siii" in every match? Either in the Bernabeo or away from Madrid.
Cristiano is one of Madrid's players whose coach, and President can depend on to lead the team to the Championships. And this really happened! Real Madrid won the Champions league three times in a row! In addition, Ronaldo was the highest scorer in all three seasons!
We hope you enjoyed reading!
We'd like to thank everyone who participated in the creation of this newspaper.
---
---